Fauja Singh took up running at the age of 89 as a way to get over depression after his wife and son died in quick succession in India. Now the world's oldest marathon runner ran his last race on Sunday at the age of 101.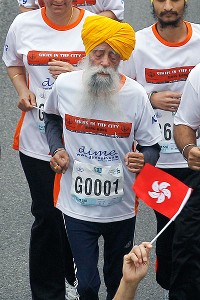 According to AP, he finished the Hong Kong marathon's 10-kilometer (6.25-mile) race in 1 hour, 32 minutes, 28 seconds.
He became the oldest man to run a full marathon at Toronto in 2011, at the age of 100.
In 2000, he ran the London marathon, his first, and went on to do eight more. His best time was 5:40 at the 2003 Toronto marathon.
Inspiring to us all.